Tufts Health Plan Makes Five-Year, $50,000 Commitment to Support the American Heart Association
For the fifth year in a row, Tufts Health Plan will present a $10,000 cash grant to the American Heart Association.
The Tufts Health Plan 10K for Women annually inspires thousands of women to embark on fitness plans that include healthy diets, cardiovascular training, and daily exercise. The American Heart Association routinely promotes these same activities as a way for women to reduce their risks of cardiovascular diseases and stroke. To further its commitment to health and join the fight against heart disease and stroke, Tufts Health Plan has made a multi-year, $50,000 commitment to support the American Heart Association.

On race day, Tufts Health Plan will present the 2010 $10,000 cash grant to the American Heart Association at the Boston Common. Founded in 1924, the American Heart Association is the nation's oldest and largest voluntary health organization dedicated to building healthier lives, free of heart disease and stroke. These diseases, America's No. 1 and No. 3 killers, and all other cardiovascular diseases, claim nearly 870,000 lives a year. In fiscal year 2006–07, the association invested more than $554 million in research, professional and public education, advocacy and community service programs to help all Americans live longer, healthier lives. Go Red For Women was launched by the American Heart Association in 2004 as a nationwide movement to celebrate the energy, passion, and power women have to band together and wipe out heart disease. Thanks to the participation of millions of women across the country, the color red and the red dress now stand for the ability all women have to improve their heart health and live stronger, longer lives. Find out what you can do at home, on the job, in your community and nationally to spread the word: Take Action.

Make a donation today. Learn ways you can give to The American Heart Association. Your contributions help provide the education and resources to significantly reduce the number of deaths caused by cardiovascular disease and stroke.

Please consider giving to an organization of your choice. If you represent a charity that you would like to offer for consideration on this page, you may contact us.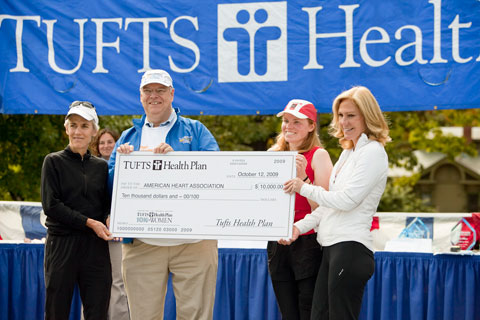 Dr. Malissa Wood, Cardiologist at Massachusetts General Hospital and American Heart Association Board Member (right)
Dr. Wood currently serves as the Co-Director of the MGH Heart Center Women's Health Program. Dr. Wood is actively involved in teaching both on the local and national levels and serves as a mentor for female trainees in cardiovascular medicine for the American College of Cardiology. She is a member of the Board of Directors of the American Society of Echocardiography and is on the writing committee for the American Board of Echocardiography Certification exam. She also serves on the American Heart Association's Greater Boston Board of Directors and the Boston Go Red Executive Leadership committee. She has been a spokesperson for the AHA on many issues, but speaks as an expert on the issue of women and heart disease.
Jim Roosevelt, President and CEO, Tufts Health Plan (second from left)