Joan Benoit Samuelson
Tufts Health Plan 10K for Women Spokesperson
A three-time winner of the Tufts Health Plan 10K for Women and an Olympic gold medalist, Joan Benoit Samuelson's name is synonymous with women's running. She began running track in high school in the town of Cape Elizabeth, Maine. Samuelson continued on to Bowdoin College, where her career soared. She received All-American honors in cross-country and track, and won the Boston Marathon in 1979, setting an American and course record, all before she graduated.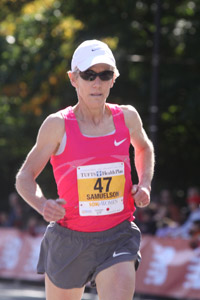 Samuelson won the Boston Marathon again in 1983, this time breaking the world record. One year later, at the age of 27, she won the gold medal in the first women's marathon at the Los Angeles Olympics. In 1985, Samuelson won the Chicago Marathon with an American record time of 2:21:21.

Currently, she is a consultant to Nike, Inc. and a clinician, conducting numerous running, health, and fitness clinics throughout the United States and the world. Samuelson is also an experienced motivational speaker, giving regular addresses to corporations, civic groups, schools, and athletes. She has authored two books, her autobiography Running Tide (Knopf, 1987), and Joan Samuelson's Running for Women (Rodale Press, 1995).

Samuelson also founded the TD Banknorth 10K as a way to give back to the sport which has given her so much. The race motto is "Shine the Light on Kids," and the race benefits a different children's charity each year. Last year, the race celebrated its tenth anniversary.

Samuelson recently participated in the Olympic Marathon Trials on April 20, 2008 in Boston. The course included a large segment of the Tufts Health Plan 10K for Women. Samuelson met her goal of running a sub 2:50 at age 50! She set the goal as a way to support her belief in life-long fitness. Joan Benoit Samuelson will be inducted into the Olympic Hall of Fame on June 19, 2008.

Joan Benoit Samuelson is married with two children, Abby and Anders. She is a devoted wife and mother, yet is able to maintain her commitment to the sport.